Working with you to Manage your Project
Project Management
A course or website is no different from any other project: It must be thoroughly planned and managed throughout. Specification and planning is key to successful project completion.
Project management processes and tools help to organize, document, track and report on project tasks and progress.
We work closely with Project Managers to help avoid any unplanned additions and changes that will exceed budgets, delay schedules, and undo what might have been an efficient and cost effective plan for your course or website.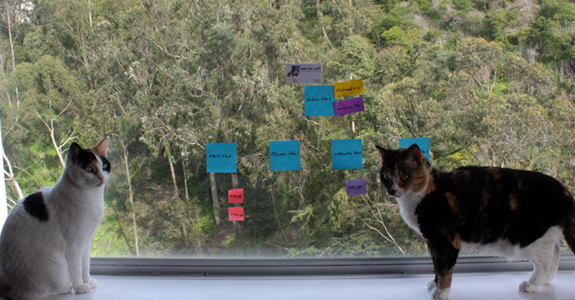 Making a Plan
Our client's find our online resources and tools that we've created for them do help to better organize and plan their project from the beginning.
When we see your Website Planning Worksheet and inventory your site content, we will then develop a "Project Plan" or outline of the development process of what is going to happen at each step; everyone's jobs (both the clients' and ours); a timeline and estimated costs.
We often use an online project management tool to work with you to monitor the project and track all deliverables.
The integration of schedule, budget, and scope is the best way to keep a project from becoming unhinged from the real constraints of time, money, and the ultimate quality of the result.
"Scope Creep" is the most prevalent cause of project failures. Scope creep is the gradual process by which previously unplanned "features" are added, major changes in content or structure during course or website construction are made, and more content or interactive functionality than the Stakeholders originally agreed to the scope of project.
Depending on where we are in the development process, some additional features or unplanned work may occur while the project is underway, as long as everyone is realistic about the impact of potential changes on the budget and schedule of the project.
"When projects go wrong, the cause can often be traced to misunderstanding and miscommunication about scope: what the developer thought their client wanted and what they thought they were getting doesn't match. The later in a project this is discovered, the costlier for someone it can become. " (alistapart.com/articles/tamingscope/)